Birdz
Birdz
Take to the skies for a game that will hopefully send your spirits soaring! Birdz is an innovative slot release from Games Warehouse which is dripping with humour, vibrant visuals and bright bonus features, opening up the possibility of some big wins which will leave you crowing with delight.
Birdz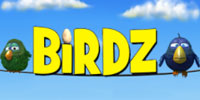 Spread your wings and take flight
Provider: NYX
Game Type: Slot Game
Payout: 95.40%
Available on Mobile: ✔︎
Available on Desktop: ✔︎
UK Compliant: ✔︎
Why You Should Play Birdz
Manufactured by Games Warehouse, Birdz is an imaginative slot which revolves around a flock of feathery friends who like to hang out together on telephone wires. Wispy clouds and hot air balloons drift past the bright blue sky in the background and the birds sit on the line having a squawk and twirling around. They are full of character and brightly coloured – red, brown, purple, yellow, blue, black, green and orange. The soundtrack is pleasantly soothing, and it perhaps makes it even more enjoyable that it does not quite match up to the theme of cartoon birds.
How to Play
Decide on the amount you would like to bet before you start to play, by hitting the stake button and selecting from the list of available wagers. The minimum is £0.30 and the maximum is £150. Press the large Play icon when you are ready to spin the reels, or the smaller Auto Play button if you want to keep going up to 100 times consecutively.
Features
Wild Symbol
The Wild symbol is an egg. It will replace all other images to help complete winning combinations.
Cascades
Every time you win, the symbols involved will disappear and be replaced by more flying in from above.
Birdz Bonus Trail
There is a trail to the left-hand side of the reels and you move one place up with each winning spin or cascade. When you fail to win, you will trigger the feature which is highlighted.
Shotgun – One of the birds is blasted into a pile of feathers and is replaced by a new bird.
Shotgun x2 – Two of the birds are blasted into piles of feathers and are replaced by a new bird.
Zap – The birds on one wire are electrified and replaced by more falling in from above.
Pecking Order – Higher value symbols come in to replace at least three of the lower value symbols.
Scarecrow – All the birds are scared away and replaced with new ones.
Cracking Wilds – All symbols on reels one, two or three are turned into Wilds.
Bird Blitz
The Bird Blitz feature is triggered at random and sees birds fly in and out until a win is formed.