Dolphin Gold
Dolphin Gold
Jump into Dolphin Gold and you will find a beautiful underwater world, teeming with brightly-coloured marine life, from the scuttling crabs of the seabed to the luminous coral and the majestic manta rays. Will you emerge from the watery depths with a bottle-nosed bounty?
Dolphin Gold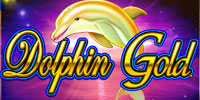 Dive under the ocean waves in this aquatic adventure
Provider: NYX
Game Type: Slot Game
Payout: 95% - 95.30%
Available on Mobile: ✔︎
Available on Desktop: ✔︎
UK Compliant: ✔︎
Why You Should Play Dolphin Gold
There are a fair few ocean-based slots out there, with games developers taking the view that players find the gentle sway of the ocean somewhat soothing and hypnotic. Dolphin Gold is an admirable addition to the list of aquatic adventures, with a soft soundtrack which features the calming noises of a still sea. The game takes place under the waves in a vibrant coral colony, and you can see little bits of gold and treasure hidden amongst the reef. It is a visually stunning game with lots of nice little touches, such as the gushing bubbles which separate the reels, and there is a pleasing variety to the symbols. There are turtles, rays, seahorses and tropical fish, while the dolphin itself is the Wild symbol and leaps in and out of the water in a fun animation. The fact that the dolphin appears stacked can really help you to notch some big wins, and the Free Spins feature feels more dynamic than on many other games.
How to Play
The available betting amounts range from £0.01 to £80 per spin, and your total wager can be seen in the top left. To adjust the amount, tap on the red down arrows or the blue up buttons next to the payline and coin icons. You can also hit Max Bet to automatically go with the highest available wager. Once you are ready, press the Play icon to start the game, or hit the smaller Auto Play button to spin the reels without interruptions.
Features
Wild Symbol
The Wild symbol is the dolphin. It appears stacked on reels two, three and four. Any wins featuring the dolphin are doubled, and the symbol also unlocks the Free Spins feature.
Free Spins
As the Wild symbol appears stacked on reels two, three and four, it is possible to land up to 12 of them at once. The number of Wild symbols you collect determines the number of free spins:
Six dolphins – 3 free spins
Seven dolphins – 6 free spins
Eight dolphins – 9 free spins
Nine dolphins – 12 free spins
Ten dolphins – 15 free spins
11 dolphins – 18 free spins
12 dolphins – 21 free spins
Extra dolphin symbols are also added to reels two, three, four and five during the Free Spins phase to increase the potential for winning opportunities.