Double Play SuperBet
Double Play SuperBet
There really is something for everyone in Double Play Super Bet, a fast-paced, adrenaline-fuelled, colourful online slot. Combine retro, timeless symbols that come to life in stunning 3D fashion - cherries, lemons and more - with several impressive bonus features, and you're onto a winner. Add in the 25 paylines to win from, and this high-risk, high-reward mix is not to be missed. That is, if you can keep up with the action!
Double Play SuperBet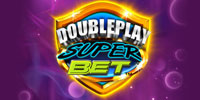 An adrenaline-fuelled, colourful online slot
Provider: Microgaming
Game Type: Slot Game
Payout: 96% - 97%
Available on Mobile: ✔︎
Available on Desktop: ✔︎
UK Compliant: ✔︎
Why You Should Play Double Play Super Bet
Experiment with your reels however you like against the backdrop of a multi-colour aurora in Double Play Super Bet. There's so many options available, and from a glitzy horseshoe to a shiny strawberry, the gameplay and symbols are bright, colourful, and full of energy. There's bonus features galore across the board, and you may miss something if you blink or take your eye off the ball for one second. With enough bonus features to more than whet the appetite, there's something super about Double Play Super Bet. Strap yourself in here, and enjoy the ride.
How to Play
Where to start? You'll be confronted with numerous eye-catching symbols right at the very beginning. When life gives you lemons, live on the wild side by choosing the Super Bet right from the off, enable the Double Play feature, or just choose your total bet and get spinning. Go out and trigger the Free Spins, and you could end up with a more than healthy balance at the end of proceedings.
Features
Super Bet
You cannot miss the Super Bet option, with the Wild symbols plastered across the screen when they do pop up, giving you the chance to win even more with enhanced reels. Using this additional wager increases your total stake, but improves your chances of winning big. You can even go all out and bet an extra 100 coins.
Double Play
Take on the Double Play bonus feature and your multiplier increases three-fold as you move up the levels. This additional wager boosts your wilds level-on-level, but take note, Level 3 is the maximum wild multiplier at x9.
Free Spins
You can trigger the Free Spins, a traditional bonus feature, if three or more Double Play logos appear anywhere in the reels, giving you an extra 15 free spins. And if that wasn't quite enough, the multiplier doubles in value during this time, up to a maximum multiplier of 18x. Another generous offering. Fill your boots!