Extra Cash!!
Extra Cash!!
Paper boys are used to doing the rounds early in the morning, dropping newspapers off at the crack of dawn to earn a bit of extra pocket money. This local paper boy wants to do just that in Extra Cash, and it's your responsibility to help him by selling as many papers as you can, and pocketing a bit of change for yourself too.
Extra Cash!!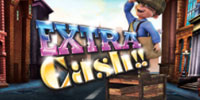 Join the paper boy on his rounds
Provider: NYX
Game Type: Slot Game
Payout: 95% - 95.23%
Available on Mobile: ✔︎
Available on Desktop: ✔︎
UK Compliant: ✔︎
Why You Should Play Extra Cash
Developed by NextGen, Extra Cash has vibrant graphics and a heart-warming story, and can be played across various mobile and desktop devices. The paper boy stands on a fragile wooden box to the left of the reels with a bag of papers draped over his shoulders and a flat cap almost covering his eyes, desperate to earn a few extra coppers. He's watching your every move, so you can't let him down. There are several symbols you need to find – a delivery van, dog and newspaper stand included – setting you up for an enjoyable, thorough gaming experience. This is headline news, and deserves your byline to complete the story.
How to Play
Play your stake from as little as £0.01 pocket money up to £10, choosing between 1 and 50 paylines with the up and down arrows. The Info and Rules buttons bring up more details about the game, and you can get things rolling by pressing the spin or Autoplay buttons. You can also view your Total Bet and Balance above the reels, set in between two rows of terraced houses. There is a Gamble feature next to the Autoplay button too, if you're up for the challenge.
Features
Wild and Scatter Symbols
Wild and Scatter bonuses can be found throughout the game, with the Wild represented by a newspaper and the Scatter, a printing press.
Extra Wild
Hunting down two Wilds pays a huge 10x your stake, finding four increases it five-fold, and unearthing five Wild symbols will pay a whopping 50 times your wager. The Extra Wild feature will also add more Wild newspaper headline symbols to your game, hopefully helping you find more winning lines.
Re-Spin
Similar to the Extra Wild feature, re-spins are triggered by stumbling across at least two Scatter symbols. This holds all your reels containing Scatter symbols, re-spinning the others. If you land three scatters during the re-spin period you'll receive another eight spins. Landing four scatters on the reels will present you with a further 12 spins, and five scatters generates an impressive 20 spins. Looks like the paper boy just got lucky by bumping into you!