European Roulette
European Roulette
European Roulette is a fantastic virtual version of this timeless classic, perfect for both eager novices and seasoned veterans wanting to experience that casino thrill once again. Take your place at the table, choose your bets and get spinning.
European Roulette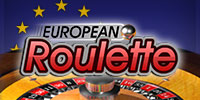 Step inside an incredible online casino
Provider: Games Global
Game Type: Casino Game
Payout: 97.5%
Available on Mobile: ✔︎
Available on Desktop: ✔︎
UK Compliant: ✔︎
Why You Should Play European Roulette
Developed by NYX Gaming, European Roulette offers a slick and stylish environment for players to wager their chips. The table is incredibly realistic and the gameplay offers multiple different views of the table. With a selection of special bets available on top of the usual action, this is one not to be missed.
How to Play
Roulette requires you to guess where the ball in the wheel will land. You can bet on the specific number it will finish on, which offers the biggest payout, or whether that number will be odd or even, or black or red, which offer much shorter odds and, therefore, smaller prizes. See the Payouts table below for more information.
Place your chips on various numbers by simply tapping on the board where you want them to be placed. Use the Save Bets button to store them for later in the Saved Bets section in the bottom left-hand corner. There's also an option to play special bets, including the Zero Game, Orphelin Cheval and Finale Cheval 5/6, activated by selecting the Special Bets tab.
Use either the Spin or Quick Spin buttons to set the game going. The dealer will then announce "no more bets" before the wheel begins to spin. Hitting Clear Bets will remove all the bets on the table, and undo will erase the last bet you placed.
Payouts
Inside Bets
| | |
| --- | --- |
| Straight Up Bets | 35:1 |
| Split Bets | 17:1 |
| Street Bets | 11:1 |
| Corner Bets | 8:1 |
| Line Bets | 5:1 |
Outside Bets
| | |
| --- | --- |
| Dozen Bets | 2:1 |
| 1-18 Bet | 1:1 |
| 19-36 Bet | 1:1 |
| Red or Black Bet | 1:1 |
| Even or Odd Bet | 1:1 |